New VW Atlas Cross Sport Research Pompano Beach
Premium Comfort and Top Functionality for Every Trip
2021 Volkswagen Atlas Cross Sport

CAPACITY
ENGINE
TRANSMISSION
DRIVETRAIN
FUEL CONSUMPTION
Estimated Fuel Economy (city / hwy)
STARTING MSRP
Cross Sport 2.0T S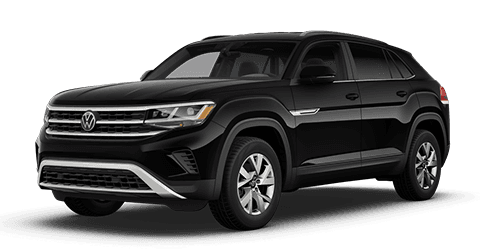 CAPACITY
ENGINE
TRANSMISSION
DRIVETRAIN
FUEL CONSUMPTION
STARTING MSRP
Cross Sport V6 SEL R-Line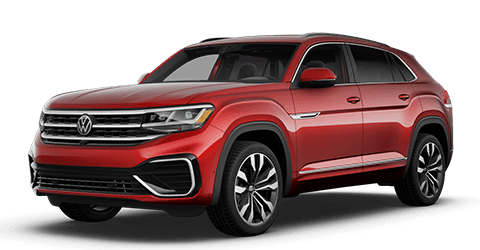 CAPACITY
ENGINE
TRANSMISSION
DRIVETRAIN
FUEL CONSUMPTION
STARTING MSRP
Luxury and Functionality on Every Road Trip
The all-new 2021 Volkswagen Atlas Cross Sport retains many features that have made the SUV a favorite with so many drivers over the years. At a glance, it embodies a sporty design with a finely crafted, sleek roofline that gives the vehicle a stunning look from the outside.
Volkswagen's intricate attention to detail is evident when you get in, with finely crafted V-Tex leatherette seats standard across all trims to provide you with luxurious comfort and style. Also available for all automotive shoppers is the optional two-tone Vienna leather upholstery that blends perfectly with the vehicle's interior design while maintaining its simplistic look.
If you are looking to experience luxury and functionality on the road, the 2021 Volkswagen Atlas Cross Sport is just the SUV for you. For starters, it is available in multiple trim levels and configurations, and each trim level offers more comfort, function, and fun for every road trip.
You can stop by at our Volkswagen dealership today at Vista Volkswagen Pompano Beach to get a firsthand feel of these trims and try out the outstanding features of every Volkswagen model in our inventory via an engaging test drive.
Go Further with Stronger Engines
For starters, the 2021 Volkswagen Atlas Cross Sport comes with a standard Front-Wheel-Drive across all trims, which helps to improve traction and enhance fuel economy and efficiency.
However, there is an optional All-Wheel-Drive system available for every trim, which helps to boost traction and acceleration in slippery and rugged terrains.
The 2021 Cross Sport comes equipped with a standard 2.0L turbocharged four-cylinder engine and an eight-speed automatic transmission system for the base powertrain. Plus, the engine turns out 238hp and 258lb-ft of torque, thus allowing you to commute to and from work or enjoy your daily cruise around Pompano without any hassle. Further up the trims, the V-6 engine serves up 276 hp and 266 lb-ft of torque for every automotive shopper that requires more performance for their road trips.
With fuel economy ratings of 22 mpg, the front-wheel-drive model of the standard 2021 Volkswagen Atlas Cross Sport removes the need for frequent stops at gas stations. The same goes for the front-wheel-drive model of the V6, with a fuel economy rating of 25 mpg.




Showcase Your Style On the Road and Enjoy Great Handling
Besides offering about 40 cubic feet of cargo area, the 2021 Volkswagen Cross Sport also comes with over 110 cubic feet of passenger space to ensure maximum comfort over distant travels.
The 2021 Volkswagen Atlas Cross Sport features a standard raked roofline and a compact rear end compared to the boxy Volkswagen Atlas model. It also comes in various color options ranging from deep black pearl to pure white for shoppers looking to complement their style.
Besides giving the SUV a modern look, its compact design makes for easier management on the road and the completion of tricky maneuvers.
Drive Safer with Intelligent Navigation and Safety Tools
Besides the customizable digital cockpit, every 2021 Volkswagen Atlas Cross Sport model comes with standard safety systems like automatic emergency braking and collision warning systems.
These safety features help prevent the risk of colliding with oncoming vehicles or running into other road users. Blind-spot monitoring and rear-cross-traffic alert systems are also available to reduce the chances of backing up into obstacles when driving in reverse.
What's more, with the 2021 Volkswagen Atlas Cross Sport, intelligent driving couldn't get any better. The vehicle comes equipped with advanced driver-assist features like the adaptive cruise control system that automatically regulates and controls the level of acceleration and braking of the SUV.
Plus, there is a slew of helpful VW service functionalities and a Car-Net connectivity app for an enjoyable ride at all times. With a single click, you can start your car remotely and enjoy real-time updates on your SUV without breaking a sweat.

Premium Entertainment Features for Every Road Trip
Say goodbye to boring rides with the Atlas Cross Sport and enjoy non-stop entertainment everywhere you go. Every 2021 Volkswagen Atlas Cross Sport model features a user-friendly touchscreen infotainment system that will spice up your journey. Besides its neat and sleek interface, this infotainment system allows you to connect your mobile devices and enjoy the fantastic multi-media and navigational tools that come with the Android Auto™ and Apple CarPlay® apps.
What's more? Stay connected on the go with the 2021 Volkswagen Atlas Cross Sport Wi-Fi hotspot. It is 4G LTE enabled to give you unlimited access to the web from your mobile device and comes with wireless smartphone charging to keep your device powered over distant trips.
Stop By at Vista Volkswagen Pompano Beach for an Engaging Test Drive
If you need some help settling for a particular trim option, then feel free to drop by at our store at any time for a test drive of the 2021 Volkswagen Atlas Cross Sport.
At Vista Volkswagen Pompano Beach, we are your one-stop store for everything Volkswagen in Pompano and its environment. And we will go the extra mile to help you find the right fit from our inventory of the 2021 Atlas Cross Sport, with our professionals on standby to offer any help you may need during the process.